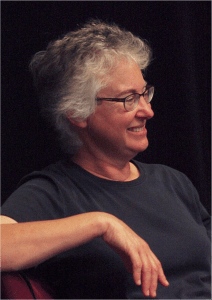 Leslie Arden has had a varied background as a composer/orchestrator, lyricist, librettist, performer, director and teacher.  She has written over a dozen musicals, including the critically acclaimed and multi-award-winning The House of Martin Guerre, the Chalmers Award winning The Happy Prince, and the Dora Mavor Moore nominated The Princess and the Handmaiden. She wrote the score to Harvest Moon Rising, the beautiful story of a modern family and a pioneer family, both struggling to maintain their family farm and their rural way of life. Leslie wrote the score to a musical adaptation of Shakespeare's Much Ado About Nothing, which was produced by Chicago's American Musical Theatre Project in August 2006 and showcased by the National Alliance of Musical Theater in New York City later that same year. Leslie composed the music for Canadian Stage's productions of The Beard of Avon and It's a Wonderful Life (in which she was also featured as a performer), and the Stratford Festival's productions of Cyrano de Bergerac and The Three Musketeers.
Leslie collaborated with Norm Foster on the oft produced The Last Resort and Ned Durango.  Her choral works include THE BEST YEARS, commissioned by Toronto's VIVA Youth Singers, and FEATHERS ON THE PAGE, which was commissioned and premiered by the King Edward Choir in 2012.  The Reformation of Jimmy Valentine, her musical adaptation of two O'Henry short stories, premiered in 2015.  She composed the music for a musical version of Goethe's Faust, which premiered in 2016.  She is currently working on MOLL, a very loose contemporary musical adaptation of Defoe's "Moll Flanders".  Leslie's also just been commissioned to write a new musical with Cathy Elliott for The Grand Theatre in London, Ontario, based on the infamous "Starlight Tours" linked with the Saskatchewan freezing deaths.
Leslie was one of 13 professional musical theatre writers chosen by Cameron Mackintosh and Stephen Sondheim to take part in a 6 month master class taught by Mr. Sondheim in Oxford, England in 1990. 
Source: LeslieArden.com