Special concert ticket packages for the 2023-2024 year are now available! Click here for more information!
The DAN School of Drama and Music has established our own string quartet for many reasons. Certainly, one hope is that the fine example of the Isabel Quartet will help us to recruit the very best string players to the Queen's Bachelor of Music program. 
Another interest we have is in fostering the further growth of chamber music—including works of chamber opera—at the DAN School. But an equal motivation was the opening of the Isabel Bader Performing Arts Centre in 2014. With The Isabel, Kingston and Queen's has a world-class concert hall that is an acoustical gem. One of the very best ways to experience the awesome potential of this hall is through the performance of a string quartet, so we were excited by the idea of establishing our own resident string quartet to regularly present concerts.   
The Isabel Quartet presented its inaugural concert in June 2016 and then opened the DAN School of Drama and Music's Faculty Artist Series with a concert in October of the same year.   
For the past few seasons, the Isabel Quartet has presented a series of three concerts at Queen's, each of which has included a quintet performance with visiting artists, such as pianist Frédéric Lacroix (University of Ottawa), double bassist Joel Quarrington (National Arts Centre Orchestra), and in the upcoming season, cellist Joseph Johnson (Toronto Symphony Orchestra). The quartet also places great importance on performing Canadian composers and, to date, has programmed quartets by John Burge, Marjan Mozetich, and Michel Szczesniak. 
The quartet undertakes a number of yearly recruitment events, having presented short concerts and provided coaching sessions at a number of Ontario high schools. 
Current Quartet Members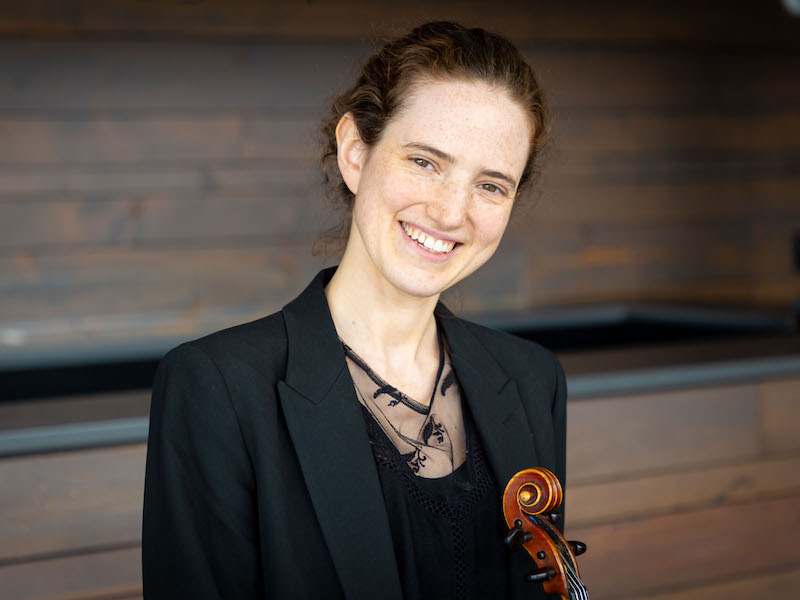 Katya Poplyansky, 1st Violin 
Canadian violinist Katya Poplyansky is a prize-winner at numerous competitions including the Isabel Bader, Tunbridge Wells and Eckhardt-Gramatté competitions, where she was awarded the prize for the best performance of the commissioned work, Carmen Braden's Foxy Fox's Musical Games. An accomplished chamber musician, she has been invited to participate in North American and European festivals, including the Toronto Summer Music Festival, IMS Prussia Cove (UK), Festival Jong Talent Schiermonnikoog (Netherlands), Hvide Sande Masterclass (Denmark), and the Smithsonian Haydn Quartet Academy (USA). Back in Toronto she has also collaborated with Amici Chamber Ensemble and the ARC Ensemble. In 2022, she was appointed Concertmaster of the Kingston Symphony Orchestra. Katya is a graduate of the Curtis Institute of Music, the Guildhall School and the Royal Conservatory's Glenn Gould School, where she was also a Rebanks Fellow.
Julia McFarlane, 2nd Violin 
Equally at home as a performer and educator, Julia McFarlane has held the position of principal second violinist of the Kingston Symphony since 2014 and is on faculty at the Canta Arya School for Strings and the National Music Camp. Julia began to study violin at age five and went on to earn performance degrees from McGill University and the Peabody Institute of Music in Baltimore. Before moving back to her hometown of Kingston, Julia was the principal second violinist of the Saskatoon Symphony Orchestra and co-director of the baroque chamber orchestra Prairie Virtuosi. Julia was concertmaster of the NYCO Symphony Orchestra for ten years and has been a guest clinician and adjudicator at workshops and festivals across Canada.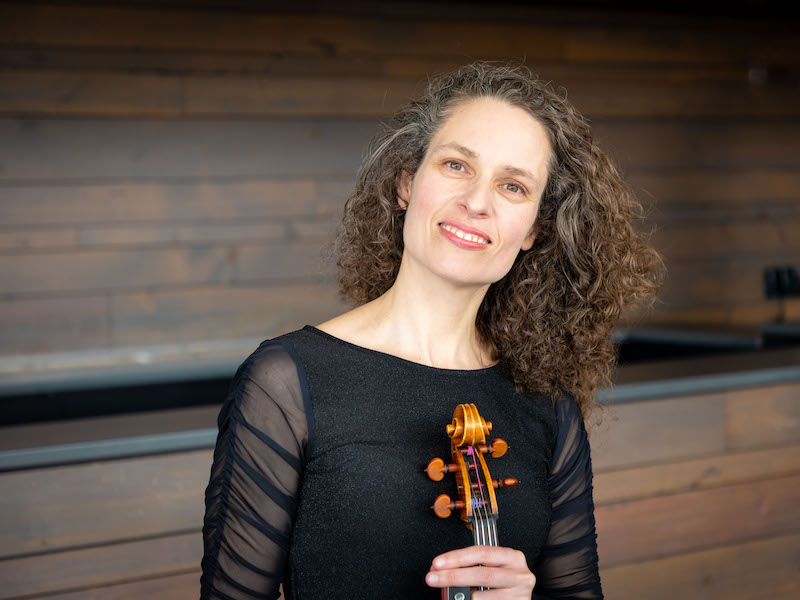 Caitlin Boyle, Viola
A JUNO-nominated performing artist, Caitlin Boyle concertized extensively for thirteen years with the Cecilia String Quartet. She won several international awards, including Banff, Bordeaux, and Osaka String Quartet Competitions. The quartet was the John D. Stewart String Quartet-in-Residence at the University of Toronto from 2015-2018, where they coordinated the chamber music program as well as holding positions as Adjunct Professors. Ms. Boyle received her doctorate from the University of Toronto in 2015, where she researched nonverbal communication in chamber music for her thesis. Currently a member of Sinfonia Toronto and the Niagara Symphony Orchestra, she has also performed and toured with orchestras such as the Toronto Symphony Orchestra, the Munich Symphony Orchestra, and the Schleswig-Holstein Orchestral Academy.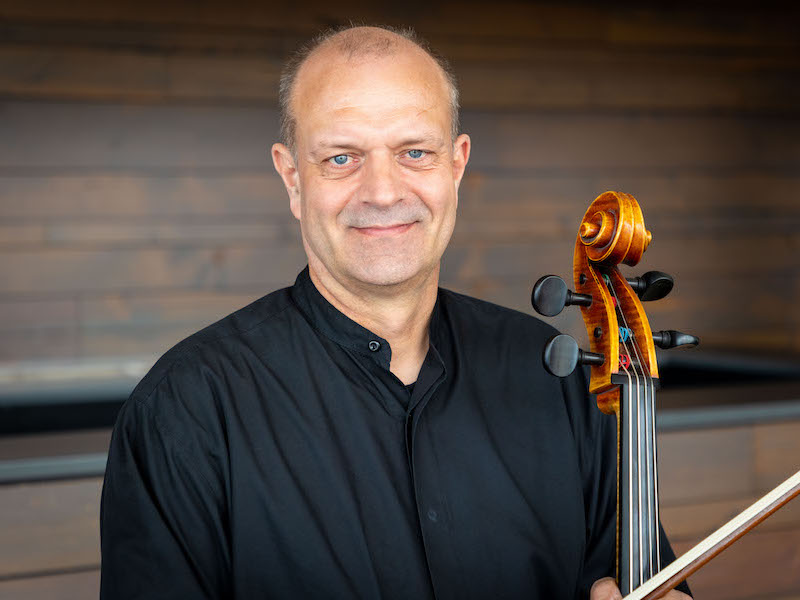 Wolf Tormann, Cello
Wolf Tormann studied with Janos Starker and Arto Noras. Before moving to Canada, he held orchestral positions with the Frankfurt Radio Symphony Orchestra, Opera Halle, and the Metropolitan Orchestra in Lisbon. He has performed solo recitals in Germany, Switzerland, Finland, Portugal, the United States, and Canada. The Hamilton Spectator described him as a 'musician of high artistry.' Wolf frequently plays in the cello section of the National Arts Centre Orchestra in Ottawa, and he is the principal cellist of the Kingston Symphony Orchestra. Wolf teaches cello and chamber music at the DAN School of Drama and Music and at Queen's Community Music.
2023-2024 Concert Series
The 2023/24 Faculty Artist Series opens with a special concert titled, DAN School Faculty in the Community, to be held on Sunday, September 24, 2023 at 7:30 PM. You can receive a free in-person ticket to this concert, if you purchase three or more in-person tickets to any of the six Faculty Artist and Isabel Quartet Series Concerts by MONDAY, SEPTEMBER 18, 2023. Purchasing three or more tickets at the same time to any of the six Faculty Artist and Isabel Quartet Series Concerts generates a 25% discount on the price of those tickets. Below are links to these concerts for tickets and more information: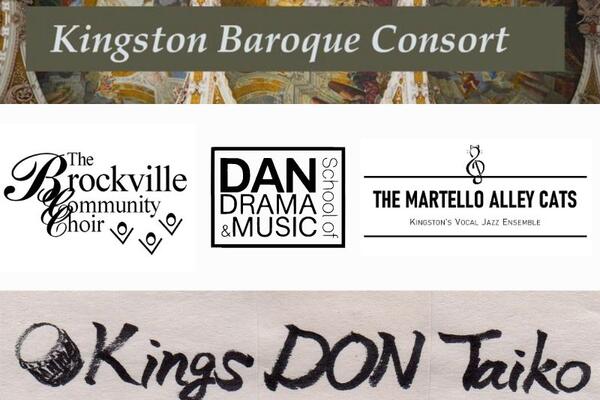 Featuring The Brockville Community Choir, King's DON Taiko, the Kingston Baroque Consort, and The Martello Alley Cats
Faculty Artist Series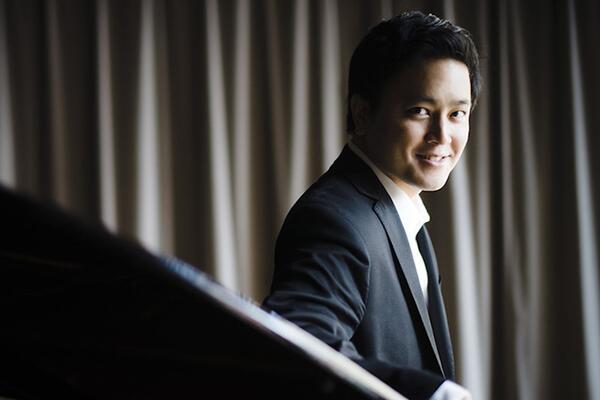 Mozart's String Quartet nicknamed The Hunt, and Schumann's Piano Quintet, performed with Queen's faculty member, Younggun Kim
Isabel String Quartet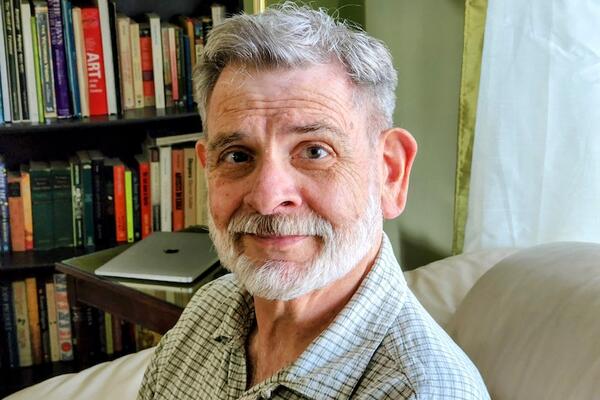 Including Michel Szczesniak's String Trio, Sonata for Cello and Piano, and Fanfare and Scherzo for Piano four-hands
Faculty Artist Series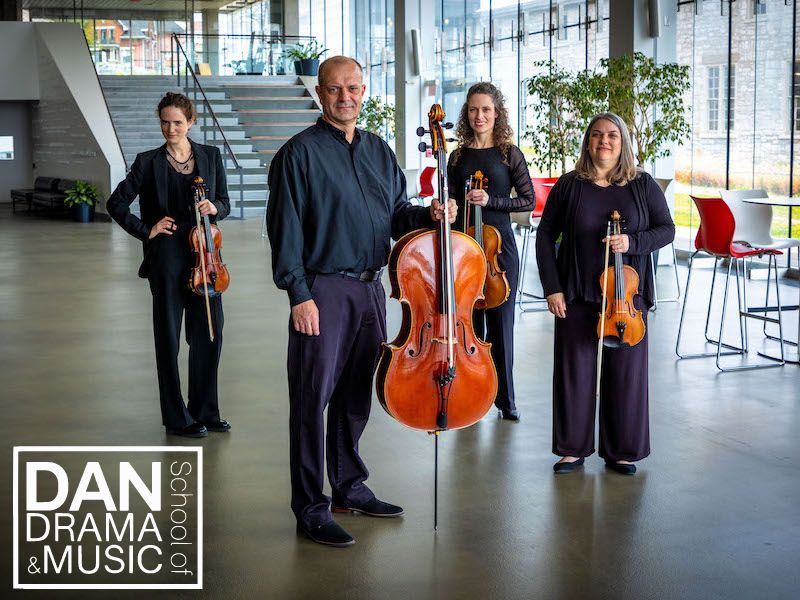 DONATE TO THE
Isabel Quartet Fund
This fund supports operations and promotional activities for the Isabel String Quartet concert program, including but not limited to marketing and promotions, event presentation, salaries, travel expenses, program support, and equipment.
Donations are processed via Give to Queen's.