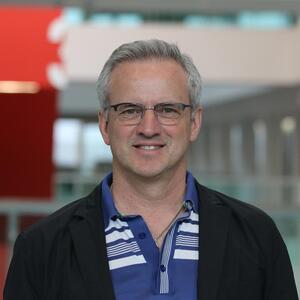 Gregory Bavington
Adjunct Lecturer
B.Sc. (Eng) '85 Licensed Professional Engineer
Greg is the Special Advisor to the Provost, Innovation and Entrepreneurship, and Executive Director of the Dunin-Deshpande Queen's Innovation Centre. He graduated from Queen's in 1985, in Mechanical Engineering and has served as an adjunct instructor in 3 different faculties at Queen's.
Greg has had a 25 year career in entrepreneurship and was the co-founder, President and CEO of a Toronto and Ohio based environmental company, specializing in producing automotive components using recycled materials.
Prior to that he had a 10 year career in engineering at Hatch and General Motors where he designed and managed very large and technically innovative projects around the world.
He and his wife cofounded a company that commercialized innovative respiratory products in the medical devices industry, which they subsequently sold.
Greg also serves on the boards of several manufacturing and process-industry companies, and has served on Queen's University Council and the Engineering Society Board of Directors.
He is a proud husband and father of two, and an avid sailor, cyclist and hockey coach.