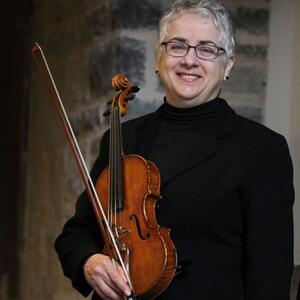 Gisèle Dalbec-Szczesniak
Continuing Adjunct Lecturer
B.Mus. (Toronto), M.Mus. (Performance) (Yale)
Violin/Viola, Chamber Music, Lectures, Masterclass & Workshops (LMW) Coordinator
Music
Gisèle Dalbec-Szczesniak is the violin/viola instructor at the Dan School of Drama and Music, a founding member of the Isabel Quartet and the applied string area co coordinator. Recently retired after 29 years as Concertmaster of the Kingston Symphony, Gisèle is enjoying freelancing in and outside of Kingston. She forms a duo with pianist Michel Szczesniak and has recorded for CBC and on CD. Gisèle Dalbec-Szczesniak is described as 'having the perfect combination of exquisite musicality and technical mastery.' Before coming to Kingston, she played with the Winnipeg Symphony and Chamber Orchestra as well as various New Music organizations. Gisèle is a graduate of the Universities of Toronto and Yale. She dabbles in yoga and mindfulness, and loves to share music with a wide range of audiences as a member of TRIOLA, a string trio.
She has recorded 2 CDs with Michel Szczesniak:
"Bow and Ivory" – a compilation of little known Canadian works as well as standard repertoire.
"Notes to Myself" – a disc dedicated to Michel's compositions for solo piano and strings.