Fundraising Concert for Ukraine Youth for Youth
Date
Thursday December 8, 2022
7:30 pm - 8:30 pm
Location
Isabel Bader Centre Jennifer Velva Bernstein Performance Hall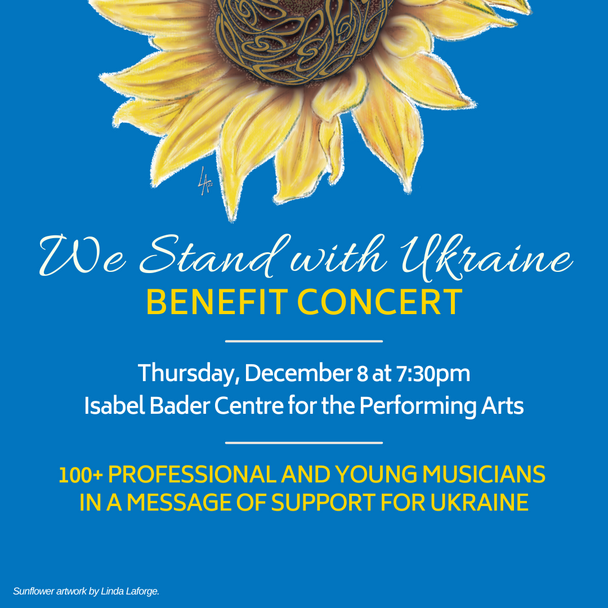 DECEMBER 8, 2022 7:30 PM
More than 100 Kingston professional musicians and youth ensembles will unite to send a message of support to the people of Ukraine. This exciting concert will feature members of the Kingston Symphony, DAN School of Music faculty, PALENAI Piano Duo, Bridge Wolak Duo, Jan LeClair, and guest Ukrainian soprano, Nataliia Temnyk. The Maky Ukrainian Dance Ensemble will welcome the audience in the colourful Pryvit dance. Young musicians representing Canta Arya School for Strings, Kingston Youth Orchestra, Cantabile Youth Singers and soloist Mathieu Roberge will join in the message of hope.
Photography of Ukraine, Ukrainian art, and powerful images from the war by photojournalists will add a multidimensional element to the evening.
Join us to support the people of Ukraine through a performance presented by artists across genres and disciplines uniting to show their solidarity during this conflict. All proceeds from this event will be donated to the Ukraine Humanitarian Appeal Fund of the Ukraine Humanitarian Relief committee - a joint partnership of the Ukrainian Canadian Congress and the Canada-Ukraine Foundation.
Tickets are through the Isabel for each performance!
Here's the link to where you can find all of them: https://www.queensu.ca/theisabel/performances/faculty-artist-series-dan-school