As a student in the DAN School, you can take a variety of courses in Drama, Music, Music Theatre, or Entrepreneurship and Innovation.
Courses at Queen's have a subject code and a number. The Subject codes for DAN School courses are as follows:
DRAM=Drama courses
MUSC=Music courses
MUTH=Music Theatre courses or courses that are related to Music and Drama
MAPP=Media and Performance Practice courses
ENIN=Entrepreneurship and Innovation courses
The number refers to the level of the course. For example, DRAM 100 is our first-year Drama course, and MUTH 104 is an Introductory Music course.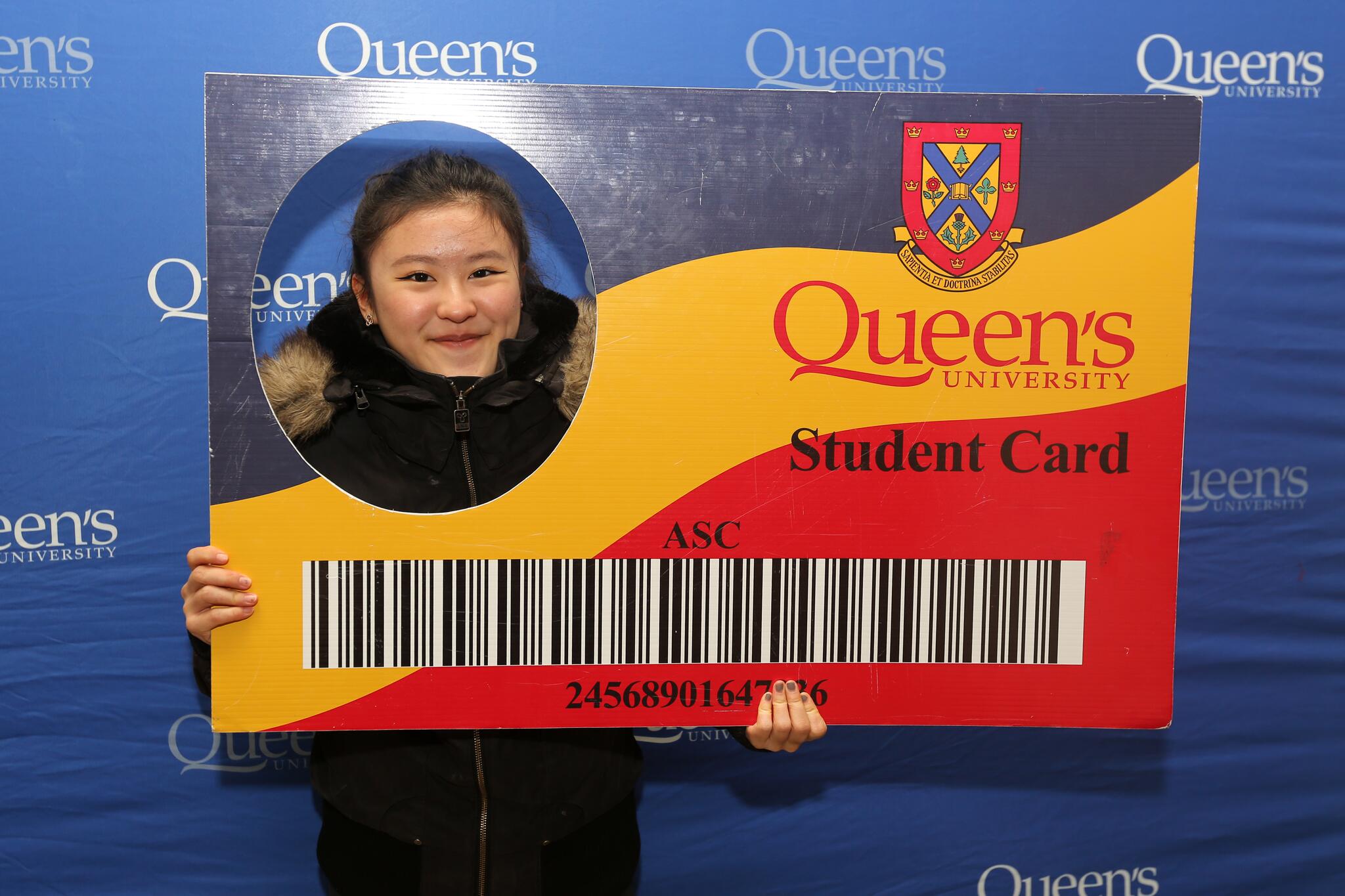 Selecting Courses
The full list of courses offered at the DAN School is in the Arts and Science course calendar. The DAN School offers a subset of these courses each year. Current students enrol in courses through SOLUS, which you can find at my.queensu.ca. The list of courses being offered at the DAN School for the 2023-24 academic year can be found here.
Some courses will have a prerequisite. Prerequisite requirements outline the prior knowledge and experience that you need, in part, to be successful in the course. The prerequisites for some courses are the completion of a successful audition.
You can find detailed enrolment and audition information in the future undergraduates section. If you feel that you have prior knowledge from your non-course experiences, please email the course instructor and outline your prior experience to ask for special permission to enrol in the class. Or email Undergraduate Advising for more information.
Courses for the 2023-24 Academic Year
We offer a wide variety of course options for undergraduate students. Please see the list for a sample of courses that are being offered in the 2023-24 academic year.
"I write entirely to find out what I am thinking." Joan Didion
 
This term we will each begin to write a new script. We will not finish it. But we will begin.
This ten-minute play script will have a staged reading on the evening of March 25, 2024, in a co-produced event with the Department of Physics, as each script will be related in some way to the history of eclipses or to the actual eclipse that Kingston will experience on April 8 2024. Throughout our fall term class, you will have in-class research and experiential opportunities to learn about eclipses, and of course you can write a script that is only tangentially related to this … the idea is to give you some structure, from within which you can feel free.
 
In order to write these short scripts, together we will develop a practice of writing and a practice of observation that I know will serve you well as you continue to work on your scripts or any other future project. But which comes first – a process of writing or a process of observation? This might remain an open question. In this class we will work both on writing and on observation with the help of a notebook and a pen. You will be encouraged to write and also to sketch in your notebook. You will explore ideas, play with words, make mistakes, and find that your mistakes are in fact openings. You will cultivate your curiosity as well as your intellectual and emotional bravery. You will try hard to leave your inner-critic at the door.
 
We will engage in low-stakes assignments that will build your capacity to think about theatre and to write it. We will engage in regular in-class reading of our work in progress, and we will learn how to give constructive and meaningful feedback to each other: these will be good skills for the future.

Requirements: Prerequisite Level 2 or above or registration in the MUTH Plan. 
Term: Fall
This special topic course takes a deep dive into the Fringe Festival performance phenomenon, with a special focus on the Canadian Fringe circuit. Exploring Fringe as a launching pad for notable Canadian plays (Kim's Convenience, Da Kink in My Hair) as well as a unique performance environment, business, and aesthetic, this course explores what makes Fringe fringe. Students will dive into contemporary debates around "uncensored" fringe content, and analyze the material conditions of reviews, ticket sales, venues, and beer tents that contribute to the neoliberal festival environment. Finally, we will put these ideas into practice: taking on the role of performer-producer, students will have the opportunity to write, produce, and perform their own Fringe shows in a mini Fringe-style festival. 
Prerequisites: Either an acting or writing for performance course. Please contact programs.danschool@queensu.ca if you need permission to enroll.
This course offers an introduction to theatrical makeup. Class time will be devoted to hands-on demonstrations, practical exercises, lectures, and creative projects. The course will focus on character development, special effects, and the use of makeup as a storytelling tool. 
Prerequisites: None. May need to contact programs.danschool@queensu.ca for permission to enroll. 
Term: Fall
A Dramaturge Prepares …
What is dramaturgy? How do we practice dramaturgy and become dramaturges?
Dramaturgy can only be understood by doing it, by "committing dramaturgy" in the words of Emily Pearlman. To that end, our practical class will investigate what dramaturgy is all about by undertaking different kinds of learning and tasks.
 
We will engage in low stakes assignments in order to practice dramaturgy:
"Committing dramaturgy" with well-known short stories and fairy tales to practice skills
Complete "Play Reports" for Paradise Lost and Indecent
Study the structure of Carried Away on the Crest of a Wave
Learn to divide scripts according to different approaches (ie. French scenes / structural analysis / beats / units)
Fill out dramaturgy charts to practice asking questions, finding patterns, locating themes in scripts in development
Learn script-related vocabulary such as characters, style, theme, given circumstances et cetera
Our major assignments will include:
Adapting a short story into a (draft) playscript for the stage
Practicing (peer) dramaturgy on the play adaptations we ourselves write
Taking on a practical dramaturgy assignment and/or research task related to the Winter Major Paradise Lost, written by Erin Shields and directed at The DAN School by Evalyn Perry
Taking on a practical dramaturgy assignment for a series of short student-written plays about the April 2025 eclipse, culminating in a staged-reading of these works on March 25 2023
Our regular assignments will include:
Completing mandatory readings of two plays, excerpts of a book, and several articles
Exercises to cultivate our curiosity and develop a practice of observation, which will include developing a regular sketching practice
Reading scripts and excerpts of scripts in class including both published and unpublished scripts and learning to ask questions of these scripts
Experiencing how other artistic disciplines also tell stories; this will include mandatory attendance at an exhibit at the Agnes, a professional concert at the Isabel, per local offerings. We will take these opportunities to reflect on the ideas of performativity and theatricality
Prerequisites: Either an acting or writing for performance course. Please contact programs.danschool@queensu.ca if you need permission to enroll.
Term: Winter
Continuation of DRAM 251. An intermediate study of playwriting and dramaturgy, including exercises in dramatic techniques and composition of original works.
Prerequisites: Prerequisite Level 3 or above and registration in a (COCA, DRAM, STSC/MAPP, MUSC or MUTH Plan) and a (minimum grade of a B- in DRAM 251). Exclusion DRAM 351. 
Term: Fall/Winter
A study of the relationship between the evolving cultural and political milieu and the theatre. Topics may include performance as an act of witness, theatre as a relational and ethical practice, theatre and human rights, theatre and its relationship to stories of violence, activist theatre, and inter- and intra-cultural theatre.
Prerequisites: Level 4 or above and registration in a (DRAM, COCA , STSC/MAPP or MUTH Plan) and a (minimum grade of a B- in DRAM 300) and a (minimum GPA of 2.60 or higher in DRAM) or permission of the Department.  
Term: Fall
This course is designed as an intense, short-burst, experiential learning expedition. It is an opportunity for students to practice developing innovative, effective solutions to real-world business, social, and creative problems. Historically this course has only been offered in the Summer term, but is available for the 2023-24 year in the Winter term. This course is provided online through ASO. More information can be found on the ASO website.
Prerequisites: Prerequisite Level 3 or above and ENIN 200 and (ENIN 301 or CHEE 302). Exclusion ENIN 401.  
Term: Winter
Immersive storytelling is a practice-based course that allows students to learn and explore various storytelling methods through immersive media such as 360-degree video or 3D virtual reality technologies. Students will learn basic concepts and theories for immersive storytelling from various backgrounds (film, theatre, visual art and HCI) and transform conceptual research into media and performance production through practice. Priority will be given to MAPP students at level 4 or above.
Prerequisites: Registration in a MAPP, FILM, DRAM, MUSC or MUTH plan
Term: Winter
This year, we are offering a new option for applied music lessons: the course codes MUSC 122/222/322/422 and MUSC 123/223/323/423 allow for 3-unit study in applied music on a student's instrument or voice.  
For 2023-24, registration in the course will be limited to BMus and BMT students in their third year or above. If you are interested in private study and are not a BMus or BMT student then you can audition to take MUSC 124. Students will still be limited to 6.0 units per year of applied music instruction. If you are enrolled in X20 then you will not be eligible for X22/23 in the same year.
MUSC X22/X23:  Applied Music Alternate Study  3.0 units
Regular lessons in musical performance with a focus on a customized plan of study, in either small-group or individual instruction. Students may enter into this course from a variety of paths such as a beginner level of study, musical traditions outside the classical canon (including but not limited to popular music, jazz, or folk & global musics), improvisation studies, or instrumental doubling.
Spots in the course are limited and student applications will be processed on a first-come, first-served basis.  Applications should therefore be submitted as early as possible in the registration process to allow us time to review submissions as well as assign a teacher.  Decisions will be made based on a variety of factors including instructor availability, department resources, and fit within the student's overall plan, so please note that an application for MUSC X22/X23 does not guarantee acceptance.
A hands-on exploration of how sound is mediated and amplified for live events, with emphasis on sound design for theatre and sound reinforcement for live music. Students will be introduced to the equipment used in live audio production including microphones, mixers, amplifiers and loudspeakers.
Prerequisites: None
Term: Winter
A critical examination of musics and their roles across societies, including the ways music and performance practices illuminate or challenge pressing issues in our world such as gender, race, class, ability, community, or nature. Students will deepen critical listening, research, and writing skills.
Prerequisites: Level 3 or above and 3.0 units from (MUSC 103/3.0; MUTH 110/3.0; MUTH 111/3.0).  
Term: Fall
This special topics course is an inquiry into how various community-based structures support life-long music making and learning. We will explore different formal and non-formal community music structures as both participants (learners and collaborators) and facilitators (planning and leading). By critically reflecting on our own experiences and various course readings, we will examine the benefits, challenges, and tensions of these topics. You will also have the opportunity to dream and articulate your future plans as a community music educator.
Prerequisites: Level 3 or above and registration in a MUSC or MUTH Plan, or permission of the School. Non-Music students should note that a significant music background is required to be successful in this course. 
Term: Fall
In Intro to MIDI Orchestration, students will learn the basics of composing with virtual instruments in a DAW (Digital Audio Workstation). These virtual instruments will include standard orchestral sample libraries, software synths, and more unusual sample libraries like foghorns, field recordings, and even a cyborg-goblin voice synthesizer. Students will also have the opportunity to create their own sampler instruments using sounds they will record in class.
 
Experience and fluency in working with virtual instruments has become an essential skill in music production, as well as in film, television, and video game scoring. To get familiar with virtual instruments, students will work on a variety of projects that mimic real-word applications, including pop-song arranging and video game scoring. Students do not need to be experienced composers to take this course—each project builds upon smaller exercises to help students get used to working creatively—but there will also be things of interest for experienced composers as we look at how to focus our creativity within the constraints of a commercial project.
Prerequisites: MUSC 191 or MUSC 255 or MUSC 396 or MAPP 311, or permission of the School
Term: Fall
In introduction to the concepts and principles of Schenkerian analysis. A reductive/linear approach to the analysis of music, it is named after its first proponent, Heinrich Schenker. An understanding of Schenker's theories will be achieved through the study of writings by both Schenker and other theorists, as well as through the student's own practical application of these ideas. Throughout this course, consideration will constantly be applied to why and how this analytic approach increases our comprehensive understanding of music through listening and performance.
Prerequisites: MUSC-293 or permission of the School
Term: Winter
This special topic course examines the intersections of music and other content areas in education. We will critically explore the practice and theory of integrating music with other arts and subjects. The course will include improvising, composing, and creating interdisciplinary projects.
Prerequisites: Level 3 or above or permission of the School
Term: Winter
Gustav Mahler was one of the more fascinating classical composers and musicians in the late 19th and early 20th centuries. Renowned as a conductor during his lifetime, his career included holding positions as Music Director of the Vienna State Opera/Vienna Philharmonic and Metropolitan Opera/New York Philharmonic. Jewish by birth, early in his career he converted to Catholicism to make it easier to gain promotion in Europe. Later his music was banned by Nazi Germany and was in many ways reclaimed by Leonard Bernstein, who not only used Mahler's own scores from the New York Philharmonic Library, but reintroduced Mahler's Symphonies to many European orchestras including the Vienna Philharmonic. Mahler expanded the symphonic form in ways that influenced many subsequent composers.

This course will provide a broad overview of Mahler's nine symphonies completed during his lifetime and the song cycle, Das Lied von der Erde. The course's primary focus will be to gain an understanding of Mahler's composition style and historical context as reflected in the music's thematic content and development, harmonic language, formal structures, orchestration and specific external influences (poetry, religion, nature, etc.). 
Prerequisites: Prerequisite Level 3 or above and permission of the School
Term: Fall
Telling a story with music…How many ways can we do that? Diversify your music theatre experience by exploring the possibilities of devising new opera/music theatre. 
This ensemble is about re-examining storytelling through song, and will feature analysis, discussion, experimentation, collaboration, improvisation, play, performance, and opportunities for mentorship. We will examine the context and content of songs, and how different approaches can affect their meaning. For example, how does the meaning of a baritone aria change if it's sung by a soprano? Or if it's sung as a jazz ballad? We will draw from a variety of genres, including classical, musical theatre, cabaret, pop, folk, and jazz, using the participants' ideas and predilections to define the repertoire and themes that ultimately create our program.  
Emphasis will be on the process rather than the product, although our endeavour will culminate in the performance of our own collective curation/creation – one at the end of the fall semester and the other at the end of the winter semester. 
For more information about how to apply see the Ensemble Application page.
With so many digital disruptions and new intermediaries affecting the way creative works are conceived, created, distributed, and consumed, this course explores a range of impacts on the entertainment sector, inspired by the Internet, digital convergence, and mass adoption of mobile and social consumer technologies.
Prerequisites: None
Term: Fall
An applied course integrating advanced-level singing, dancing and movement techniques, choreography, devising, and other creative applications in music theatre scenes. Through written assignments and performance, students prepare and perform scenes that integrate the work of the composer, lyricist, and book writer.
Students with previous singing and advanced private dance class experience, including through Queen's clubs, are encouraged to request permission.
Prerequisites: Prerequisite Registration in a MUTH plan or (3.0 units from MUSC 120; MUSC 121; MUSC 124; MUSC 180; MUSC 280; MUTH 210) and MUTH 211 or permission of the School.  
Term: Winter
A supportive, inspirational environment will be provided in which the participant can investigate the 'why' that motivates their artistic choices, then together we will find the how, through inquiry, collaboration, experimentation, and rehearsal. This course will culminate in the performance of one or more collective creations at the end of the winter term.
Even though you will be developing your artistic 'voice', this course is not just for singers!  DRAM, MUTH and MUSC students are all welcome.

Points to be explored:
-    Finding your 'why', connecting your values to your artistic practice
-    How to curate a show
-    How to connect with an audience while maintaining artistic integrity
-    Finding one's strengths and weaknesses as an artist and leader
-    How to speak to an audience
-    How to create a group arrangement
-    Guest artists will share their expertise and work with participants.
 
Prerequisites: Level 3 or above and registration in DRAM, MUSC or MUTH Plan, or permission of the School.  
Term: Winter
An exploration of 20th- and 21st-century interventions in art music, popular music, music theatre, applied and social theatre, and/or documentary theatre. Via reading, performance analysis, and creative interventions, students employ theories of performance to understand the components, motivations, and impact of performance in times of crisis. NOTE Transportation/Live Performance: estimated cost $100.
Prerequisites: Level 3 or above
Term: Fall